Justin Frieze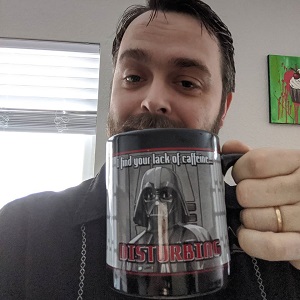 I interviewed Justin Frieze over Team video chat for this month's Spotlight! Justin's home office is in his garage so that he can get some work done without participation from his 2 children and 4 cats! Justin was very deliberate in pointing out that they are very much his wife's cats! He likes the cats but is more of a dog person. I'm not sure if he said that because it's true or because his wife of 12 years, Tasha, walked in while I was interviewing him, and he wanted to stay out of trouble! If you've met Justin, you've probably figured out that he kind of enjoys spinning up some mischievous trouble and is quite fun to have around our office!
Justin joined Anchor in August of 2019 as a Network Administrator. If you've had the chance to work with him, I'm sure his talents have already made an impact and we receive excellent feedback on his project work. He says he likes working at Anchor because, "It's not stagnant work. Every project, every ticket and every day is different. To put it oddly, having a good day and contrasting it with a bad day happens far more often. The dynamic of day to day makes for a nice work environment."
Justin is originally from Nebraska then moved to Colorado where he met Tasha. He seems to enjoy telling the story that she walked into a door while checking him out and Tasha openly admitted it was true when I asked her! They moved to Florida as Justin was seeking career advancement, but says he moved back to Denver for sanity.
When asked about home life and hobbies, he replied, "I'm going to toot my own horn here! I'm a do-it-yourselfer! I'm a jack of all trades and master of none. I love doing and building things on my own and there hasn't been much I haven't been able to do myself….within reason!"
Here is some Q & A fun with Justin:
Q: Who is your favorite author?
A: Michael Crichton. I was just listening to Jurassic Park on audiobook.
Q: What is your favorite meal?
A: Crawfish from Yabby Hut.
Q: Tell us something we don't know about you!
A: I'm a weekend mechanic!
Q: What is your favorite animal?
A: The Grizzly Bear. They can be soft, tame and caring, but don't you cross 'em or it will be the last thing you do!
Q: Do you have a guilty pleasure?
A: I'm an audiophile! Also known as a basshead! I also like to install car audio systems.
Q: What is your favorite movie or TV series?
A: Back to the Future is my obsession movie. I also love Independence Day. My favorite TV series is Home Improvement!
Q: If you could do another job for a day, what would it be?
A: Farmer, like a corn farmer. Maybe it's the Nebraskan in me. It seems far less stressful and I'd get to work with my hands.
Q: Do you have a favorite vacation spot?
A: Well, it's not a vacation spot but we've made the trip to Florida enough times to not need a map and we have favorite rest stops and restaurants that we find our way back to based solely on familiarity with landmarks we recognize in the area we are in!