Joe Miller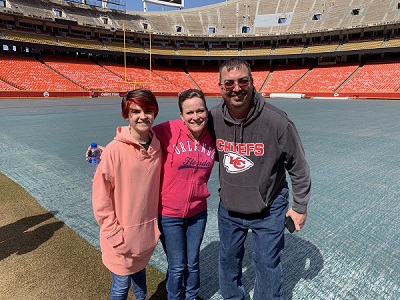 In this month's Spotlight let's get to know a man of few words, Joe Miller. Joe joined Anchor in June of 2014 as a Network Administrator and he remains an integral part of that team. He says he likes working at Anchor because he "enjoys learning new stuff and helping people". In particular he enjoys developing relationships with the customers. When I dug deeper to understand what he likes about client relationships he replied, "I like getting to know the people and what makes them them". I can say from many of my own experiences that Joe doesn't just reserve that attitude for our clients, and is someone I can rely upon to drop what he's doing when I am locked out of Quickbooks or any other urgent issue I may be having. He fixes things quietly and doesn't like much fuss for doing it, but I sure appreciate him!
Joe served in the US Navy for 9 years active duty and then another 2 years in the reserves. He was later recalled as a result of 9/11 and was stationed for a second time in Hawaii at a Command Center that was leading the war on terrorism. Joe says he loved his time in the military and that's where he got his start in networking. He stated, "I kept learning because of what I did in the Navy". He has certifications in 2008 and 2012 MCITP.
Joe shares his home with his wife, Wendy, their 13 year old daughter Taylor, and a 7 year old Chihuahua Corgi mix named Clementine who they adopted from the Dumb Friends Animal League. Taylor has been performing Aerial Lyra (hoops) for 2 years now! I'd love to see that!
Joe enjoys movies, biking and going to theme parks with his wife!
Here is some Q & A fun with Joe:
Q: Do you have a favorite book or Author?
A: I love reading Dean Koontz and Tom Clancy
Q: What's your favorite meal?
A: Pizza and burgers….. but not at the same time.
Q: Who is your favorite musician/band?
A: I've seen Metallica 5 times in 4 different states! I have tickets to see Jeff Dunham, you know, the ventriloquist guy, and Gabriel Iglesias but both concerts are delayed right now.
Q: Do you have a favorite movie and/or TV series?
A: The Marvel superhero movies for sure. On TV I'm falling in love with Chicago PD.
Q: Do you have a guilty pleasure?
A: (He laughs then says) I'm addicted to peanut butter.
Q: What is your favorite animal? (I now ask everyone this question purely for my own curiosity!)
A: I would say the Elephants.
Q: If you could do another job for a day, what would it be?
A: I dreamt of being a firefighter when I was a kid. So when I was in the Navy and could do drills I would jump at the chance, not just to put out our fires but to help people when they're in need.