Lucas Schnider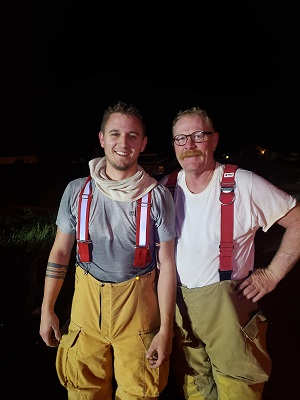 Lucas came onboard in October of 2019 and works alongside Jacee in our Kansas office. He quickly won over the Team, myself included, with his gentlemanlike demeanor and obvious skills. I work with Lucas on our procurement team and find him to be patient, positive and fun! He puts client and team before self.
When asked, Lucas said he likes working at Anchor because, "Everybody is great! Everyone I work with has treated me great. I was instantly part of the Team, no question.". I then asked how he got into IT and he explained that he just loves technology and it "comes very naturally, I don't know why. I pick it up easily. I'm a hands-on learner and IT is the perfect fit for me."
Lucas was born and resides in Colby with his wife and his boys, ages 3 and 7 months. He adores his 2 Siberian Huskies and says they're the greatest things in the world! We discussed the complex Husky personality at length and laughed at their ability to get the last word EVERY SINGLE TIME! If you know a husky, you know what we mean! He also has a cat who he refuses to claim, and it lives primarily outside. Needless to say, it is his wife's cat.
In his spare time, Lucas likes to build and drive demo cars, as in demolition, and "crash into people without ramifications"! He likes to hunt, and also has a love/hate relationship with house projects! Above all, he loves to spend time with his boys and his family.
Here is some Q & A fun with Lucas:
Q: What is your favorite meal?
A: I can't answer that, I like food too much. Mostly meat, like steaks and burgers.
Q: Tell us something we don't know about you!
A: I've been a Firefighter for the town of Colby for 3 years. If I get a call during a workday, I sometimes have to go, but mostly on weekends. I spent a lot of this weekend answering rural brush fire calls. There are 2 shifts and we switch on and off. I'm on rural calls one week then the city calls the next week.
Q: Do you have a favorite movie or TV show?
A: Supernatural. It's like the greatest show in the world.
Q: What is your favorite animal?
A: Dog
Q: If you could do another job for a day, what would it be?
A: A Firefighter in a big city.
Q: How would you spend 1 million dollars?
A: I would pay off all of my debt then not spend another dime of it!