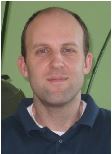 If there is one single thing that makes Anchor Network Solutions great, it's the amazing team of employees we have. Everyone on the team is instrumental to the company's success and we want to take time to recognize them and help you get to know them better. So let's kick off this month by sharing more about Ryan Barlock.
Ryan reports to Jacee Dobbs, our Help Desk Manager, and Jacee had this to say about Ryan:
"Please join us in welcoming Ryan Barlock to Anchor's team! Ryan was hired the first of March and is going through training to get familiar with Anchor's procedures and clients. He moved to the Denver area in 2010 and has over 5 years' experience in the IT and customer service fields. Ryan is certified in Windows 7 and Server 2008 and has a strong passion for IT. We are excited to add him to our help desk team!
Read below to get to know Ryan a bit more and be sure to say hi when you meet him!"
Q. What do you feel is your "power move" within the company?
RB: Sticking with the problem to get it resolved while maintaining a high level of support.
Q. What are your hobbies?
RB: Running, Golf, Basketball, Camping, Hiking, Video games.
Q. What is the last concert you saw?
RB: Jason Mraz
Q. What car do you drive?
RB: 2003 Saab 9-3
Q. What is the last movie you saw?
RB: Snitch
Q. If you were stranded on a deserted island, what is the one food you could not live without?
RB: Purple Grapes
Q. What's your favorite color?
RB: Green
Q. If you could live anywhere in the world, where would it be and why?
RB: Denver, I really enjoy the culture, and the weather here.
Q. Any animals living at home?
RB: No
Q. If Hollywood made a movie about your life, whom would you like to see play the lead role as you?
RB: Nicholas Cage
Q. If you could have three wishes, what would they be?
Worldpeace
House paid for
Good health
Q. What have you not done that you really want to do?
RB: Skydive and play in a world series of poker.
Q. What is the wallpaper on your cell phone?
RB: The beach
Q. What is the last book you read?
RB: Fear Nothing by Dean Koontz
Q. Favorite sports team and/or athlete?
RB: Any Dallas sports team.
Q. How would you describe yourself in three words?
RB: Patient, Aware, Happy
Q. Anything else we should know about you?
RB: That pretty much covers it.
Welcome Ryan! We are very happy to have you as part of the Anchor family.