Perry Nunley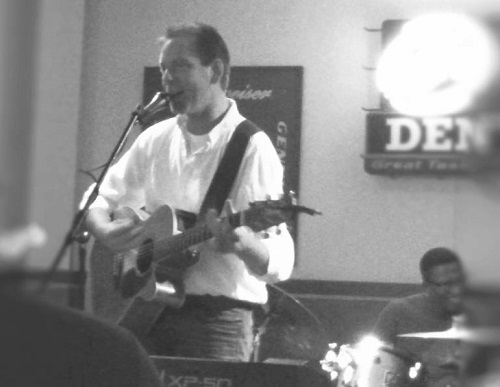 Perry joined our Anchor team in March of 2020 about two weeks before we closed our offices for Covid. Although I have not spent as much time with him as I would like, I can tell you all that he is soft spoken, patient, polite, funny, self-deprecating and gentlemanlike; truly a pleasant man.
When asked why he likes working at Anchor he replied, "The people to be honest with ya, and the work. It's not overwhelming but it's challenging, and I learn something new every week. There's no politics and no backstabbing. Just a really nice bunch of guys who get together and work and have a good time." He added, "it's nice to be part of a team for once".
Perry is a musician and songwriter at heart and music is the underlying theme woven throughout his life. In his spare time he writes and records. His writing style is Country and Americana. He plays guitar and sings and tells me, "sometimes it's good, most of the time it's not", so if he writes and records a bunch of songs a year, he will only post maybe two. Go ahead and Google him! I'm listening to his cover of Copperhead Road as I write this!
In 1988 Perry started his career in Law Enforcement. During his 15 years he worked up the chain to become Chief in Bomar. It was at this time he became interested in IT. Police Officers had to learn to do their work on computers and he became involved in the departments data base development, as well as computer upgrades, and became the onsite 'computer guy' for the entire city! In addition, his passion for recording and not wanting to buy studio time led him to purchase a 'beefy computer', as Perry put it, and his appreciation of technology sent him in a new direction.
Perry lives with his Fiancé and their German Shepherd/Belgian Malinois mix, Oliver. They love camping, hiking and kayaking.
Here is some Q & A fun with Perry:
Q: Who inspires you?
A: My Dad. You don't realize this until later in life sometimes, but he taught me to be self-reliant and to figure things out on my own, almost to a fault. He ingrained in me to take care of yourself, don't be a burden, just do your stuff. He's still alive and he's made a big mark on me.
Q: Who is your favorite author?
A: Louis L'amour. He writes fiction based on real events of the old wild west. I started reading his stuff when I was a teenager so when I do read, that's what I prefer.
Q: What is your favorite meal?
A: A chicken fried steak meal….my Mom's. My fiancé does a good job too, but she's gluten-free so I don't get it very often!
Q: If you could do another job for a day, what would it be?
A: A record producer. I prefer to be behind the scenes.
Q: Do you have a favorite vacation spot?
A: Once a year we take a 5 day trip on the Yampa River. We get out on the river and don't see a soul for days. We take whatever we can fit in the kayaks and camp out along the river.
Q: Who is your favorite musician?
A: ZZ Top, and I like Pink Floyd.
Q: Do you have a favorite movie?
A: The Godfather. I like gangster movies.