Patrick Kiah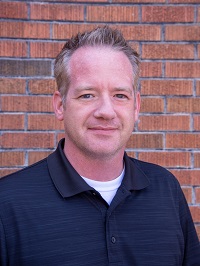 I'm sure many of you know Patrick Kiah by now as he started with Anchor back in February of 2014 as a Network Administrator. Pat likes working at Anchor because of the sense of family and says the overall culture is very warm. He went on to say, "I get to work on geeky things while making an impact on a client's day and I like to make them happy!".
When he's not being an awesome team member at work he enjoys playing Center for his Ice Hockey team. He has two sons, Garrin and Ryker, who share his favorite hobbies as he also loves to fish and camp. His boys also enjoy ice skating with Dad! Pat adopted a kitten name Cleo back in December and says she expects to be treated like a Princess! She sounds like a typical cat to me!
Here is some Q & A fun with Pat:
Q: What is your hidden talent?
A: I'm an artist. I mainly draw fantasy like knights, dragons, castles and wizards. I started drawing when I was 8.
Q: Tell us something we don't know about you!
A: I love karaoke! I'll usually sing Tom Petty, Creed, 3 Doors Down and Dave Matthews to name a few. (we sometimes rent a private Karaoke room for company happy hours and I can vouch for his vocal talents!)
Q: If you could do another job for a day, what would it be?
A: I wouldn't mind being a Fly Fishing Guide! That would be a nice relaxing day.
Q: What is your favorite animal?
A: Wolves
Q: Do you have a guilty pleasure?
A: Video games
(he said with an eye roll at himself!)
Q: Do you have a favorite movie or TV series?
A: Game of Thrones
Q: Where is your favorite vacation spot?
A: Back home in Western New York with my family and friends.
Q: What is the best concert you've ever seen?
A: Rush at Red Rocks, that was a really good show!