EMPLOYEE SPOTLIGHT
Greg Moss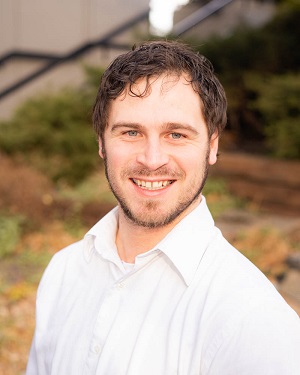 Greg Moss joined Anchor in November of 2018 and brings a beautiful balance to the team. When I hear him on calls with our clients, he is most often laughing with them!
As is nearly always the case when I ask, "why do you like working at Anchor?", Greg's response was, "it feels like family." I never get tired of hearing that! He went on to say, "I've worked for large corporations and Anchor is a small group of like-minded people. I actually like coming to work! I can talk to anybody about anything and no one judges, it's very welcoming."
Next I asked about his beautiful and ridiculously intelligent Fiancé, Sarah. I have had the pleasure of working with her when she was writing a paper for her Masters and chose Anchor as the business model she was to analyze. Not only is she lovely, funny and down to earth, she is also a fantastic baker and often sends Greg to the office with treats for the entire Team! Being who I am, I had to know how he proposed and his unexpected reply was, "out of the closet!". Don't worry folks, I insisted that he elaborate! It seems Greg is terrible at keeping secrets when it comes to surprises, and once he had the ring he knew he could not wait long before he would explode with anticipation, so while she was away on a business trip he hid the ring in his cowboy boot (more on boots later!) and thought about how he would propose. In the meantime, he wanted her to come home to a clean house, which meant he also had to do laundry. It seems Sarah is quite particular about the way her clothes are folded and hung, so he got down on one knee in the closet and yelled for her to come approve his work and upon turning the corner that is what she saw! Greg said she nearly fell backwards! Well done Greg!
Greg and Sarah live with their 'very curious' 25lb lab/terrier mix named Gidget. They get outdoors whenever they can. Greg plays softball several times a week! He went to school for Fine Arts and continues to paint. He typically paints landscapes or animals, but colored pencil sketching is his favorite medium. He's also a writer and primarily bases his stories off of his random dreams. He's trying to publish his current book of stories!
Here is some Q & A fun with Greg:
Q: What is your hidden talent?
A: I play 5 instruments! I'm self-taught in guitar/bass, mandolin, piano, and drums and formally trained in Saxophone. I was in a jazz band and we played Disneyland!
Q: Tell us something we don't know about you!
A: I'm a Sommelier and will still do private parties! I enjoy creating new drinks for people! I was a sports writer, and I was a firefighter until a heart arrhythmia was discovered. Being a sprinter in college track helped put me through school and I also worked with disabled children while in college.
Q: Do you have a personal philosophy?
A: My philosophy comes from my favorite book, Meditations. It contains the personal thoughts and journals of the Roman Emperor Marcus Aurelius, which was discovered after his death and published. He was guided by the philosophy of Stoicism and whenever I am in a funk I reread the book. Basically, you can't change the past, so why dwell on it? You don't know what's happening in the future so all you can focus on is the present. This is why I'm a terrible planner!
Q: What is your favorite animal?
A: Otters! They're always playful and have no natural enemies! Sarah adopted one in my name at the Denver Zoo as a Christmas present, so I own one! Her name is Ahanu!
Q: Do you have a guilty pleasure?
A: Cowboy boots! I grew up in small towns and we moved a lot for my father's job. My best friend lived on a farm and we were allowed to work the combines at age 12! They always had boots and would let me wear a pair to do the work, but my parents didn't want to encourage my 'country' look and wouldn't buy me a pair, so once I started making my own money I started buying myself boots!
I had a blast learning all of this about Greg! Anchor sure has a talented, interesting and diverse group of special people!
Which onion should I peel next month? If anyone wants to learn more about a member of our Team, please send me your suggestions! [email protected] and you can always feel free to pick up the phone and call me at x116!