EMPLOYEE SPOTLIGHT
DAVID VILANOVA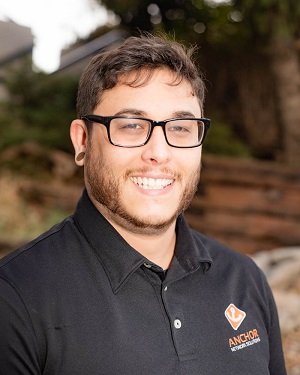 I've been looking forward to this Spotlight article as Dave is a big personality and brings a fun vibe to our Anchor Team! Dave came onboard in July of 2018 and is our Rapid Response Engineer.
When I asked Dave why he likes working at Anchor his response did not surprise me. He said, "because it's fun to come to work with people who all have the same or at least similar interests and hobbies outside of work." He continues, "This team has so much in common and when it's easy to relate it makes a tough job easier to do because technology is a strong passion, we all love technology and get reward out of fixing things that no one else can fix. Anchor gives me the opportunity to learn and grow at my own pace, and the team support in turn makes me want to be a better employee."
I know I speak for everyone when I say that Dave brings a unique and special energy and we are lucky to have him!
Dave is a 'military brat' and says that his childhood in Japan and Germany shaped him into the person he is today. "We're called 3rd culture kids! I feel I lived a fantastic life and would never trade any of the things I grew up with!" Although born in Georgia with strong Southern roots, Dave feels that Japan is where he really grew up as he lived there from age 5 through 13. His fondest memories are the culture and positivity of the people. Most of all he enjoyed their entertainment, the TV shows and anime in particular. Dave told me, "I've seen so much change and experienced so much and this has shaped my core values. The Japanese are a wholesome people who have respect, hard work ethics and values, cleanliness and good food!"
When he returned to the USA after High School in Germany, Dave got addicted to the Colorado lifestyle and met his wife, Audrey. He spent a good part of his career working with kids with special needs and judicated youth.
Here is some Q & A fun with Dave:
Q: What is your hidden talent?
A: I was in a Metal band with my brother-in-law and some friends for 8 years. I can do metal vocals within a large range which allows me to scream really high and really low!
Q: Do you have a personal mantra or motto?
A: Learn to focus on yourself. Don't worry so much about what other people are doing or what else is going on.
Q: What is the best concert you've seen?
A: Billy Idol was the coolest! My Mom was into him but when I saw his show I thought this dude is killin it! He was just so cool! He performed at a 3 day festival in Germany that my Mom let me go to.
Q: Do you have a favorite movie or TV series?
A: Star Wars!
Q: What is your favorite animal?
A: Dogs! I have two: Mowgli and Ozzy.
Q: Tell us something we don't know about you!
A: I did Mixed Martial Arts at a competitive levels for 4 years.