EMPLOYEE SPOTLIGHT
UTKARSH "KARSH" SAHAY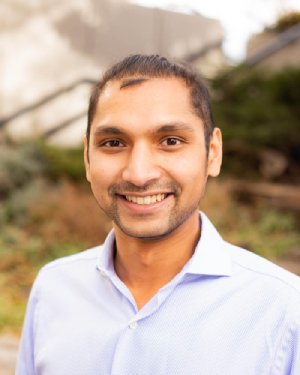 Welcome to 2019 and I hope it is treating everyone very well so far! The New Year has brought several positive shifts and changes here at Anchor and we are looking forward to the growth and success such decisions bring for us as well as our client's success.
One of the more exciting changes brings us to this month's Spotlight guest, Karsh Sahay, who joined our Team as a Service Desk Engineer back in July of 2018. You may recall his name from Glo Fields Spotlight as he was her fiancé, but more on that later! Karsh fit in immediately and when the position of Service Delivery Manager opened up, he was chosen for the position! Mike Stewart vacated that position, but do not fret, Mike is now Director of Operations and I could not be more proud of him.
I adore Karsh's response when I asked why he likes working at Anchor: "Anchor is my family away from my family, nothing but an experience of the warm earth at home. My work provides me not only the ability to do what I love and be around people who value what I do, but a true culture that I've been looking for for my career….home away from home." He goes on to say, "Not only is Anchor my extended family but I actually work with my family and it wouldn't have happened without the guidance that my wife has given me as a partner. Without Glo, I would not be able to do what I do."
Karsh grew up on Long Island, NY (as did yours truly) and met Glo while pursuing his interests in progressive politics. They met while moderating an online forum with more than 70k subscribers, and in turn, was represented by a not-for-profit political PAC called "The Political Revolution." As you may recall they suffered a long distance relationship until as Karsh put it, "they were seeking their dream getaway which led them to the mountains."
The moment Karsh begins to talk, in his warm soft-spoken manner, his intelligence becomes apparent. He attended Northwestern University and studied a core curriculum in Computer Science and Psychology. It was during this tenure of 5 years that he evolved and worked towards his practical career. By studying both he discovered that while delivering service and technology he also wanted to serve people. He worked on Northwestern's IT Service Desk team where he rose to the level of Supervisor and this shaped his trajectory.
Suffice to say, 2018 was a busy year for Glo and Karsh as they got married in Aspen on November 5th and welcomed their son, Indriyaan, on November 19th!
Here is some Q & A fun with Karsh:
Q: What is the biggest fear you've overcome?
A: Overcoming my mental health hurdles through High School and College and truly seizing my life and being where I want to be.
Q: What is your favorite meal?
A: Mom's chicken and rice! I had to learn it when I went to college, so my mom taught me her recipe and that is how I learned to cook. (Glo says he's quite the chef!)
Q: Do you have a personal philosophy or mantra?
A: "Out of sight, out of mind." This is something I truly believe in. There is no way to make an impact on something that is not on your direct sphere of influence.
Q: What would you do if you won the lottery?
A: I would want to help others who have had struggles with mental health. We need to create acceptance in our society due to the stigma impressed upon those suffering, which therefore prevents those who are in charge of managing and caring from doing justice on behalf of those who are dealing with the issue. Community services and compassionate peer groups can bridge the gap between mental health and criminal offense. It's not just a nebulous liability that people should fear but instead try to understand the intricacies' of mental health.
Q: Do you have a guilty pleasure?
A: Wendy's #6….I can't live without their spicy chicken sandwich!
Q: What is your favorite animal?
A: Meelo, my 6 year old Goldendoodle who came across country with me.
Jill's note: When their son Indriyann decided to come over a month early while Glo was at a routine doctor's appointment, their planning went out the window. Karsh knows I am a dog lover who enjoys hosting guest dogs whenever possible and asked if I would care for Meelo overnight while he raced to the hospital to be with Glo. Meelo stayed with us for a month and I've never before seen my family get so attached to one of our guests. When I announced to my husband and daughter that Meelo was being picked up the next evening they contemplated selling the house and moving to a different state rather than give Meelo back. He's a special pooch and is going to be Indriyaan's best friend.