EMPLOYEE SPOTLIGHT
CAMERON RYAN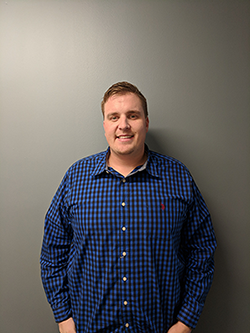 Let's talk about Cameron "Cam" Ryan! Cam joined our Team in October of 2016 as a Service Desk Engineer and then switched to vCIO in April of 2018. Cam enjoys his new position and thrives when he's face to face with our Client's while helping them come up with solutions and efficiencies for their businesses. Cam has a huge personality and believes meetings should end with a hug rather than a handshake! Speaking of Cam hugs, at a towering 6'8", when Cam hugs me he lifts me several inches off the ground! I have not had to visit a chiropractor since I began working with him as his bear-like embrace cracks my back every time!
Cam tells me he enjoys working at Anchor because it gives him the opportunity to work smarter, not harder and he enjoys working with our Team.
When I ask him what he enjoys most outside of work, without hesitation he replies, "being a Dad". His high energy and adorable nine year old son, Kayne, makes his Dad proud playing Tight End on his football team and they placed 2nd overall in their league this past season! Cam never misses a game!
His latest hobby is collecting vinyl albums to play on his new turntable! He's also a romantic and hoping to find nice girl. She will have to be tall.
Here is some Q & A fun with Cam:
Q: Who inspires you?
A: Elon Musk. He's smart and doesn't cave. I like his entrepreneurial nature.
Q: Do you have a favorite band?
A: Greta Van Fleet! I want to travel somewhere to see them. It's looking like Miami, I have a friend I can crash with there.
Q: Do you have a favorite vacation spot?
A: I'd like to go to Ireland. I want to experience the culture and its part of my heritage on my Dad's side.
Q: Tell us something we don't know about you.
A: I played Semi Pro Football after High School. I was a Tight End. (like father like son??)
Q: Do you have a favorite movie or TV series?
A: Baby Driver. The first vinyl I bought was the soundtrack for that movie!
Q: What is your favorite animal?
A: Bears. I like their stoic nature and they're the leaders of the forest.
Q: If you could do another job for a day what would it be?
A: A Cop! I would do it for more than a day!
When I pressed him for details on that answer Cam said, "I like helping people and I do well in stressful situations. I'm a good de-escalator.".
Authors note: we had to check with Merriam-Webster to confirm de-escalator is in fact a hyphenated word! Thank you Cam, this was another fun interview and ended with a back-cracking hug! I love my job!
Stay tuned for next month's Spotlight as I'll be introducing you all to the newest and littlest member of our Anchor family! He's due to arrive any day now!