VoIP for Small Businesses in Boulder, CO
Finally - VoIP for small businesses in Boulder
Anchor Network Solutions specializes in providing VoIP solutions for small businesses in the Boulder, CO area. Our expert VoIP consultants for small businesses can help you streamline communication, reduce costs, and boost productivity with tailored solutions. Contact us today to speak to learn more about our VoIP services for small businesses.
In today's fast-paced business landscape, effective communication is paramount for small businesses aiming to compete and succeed. As a small business owner, you understand the importance of streamlined operations, cost-effective solutions, and reliable communication. That's where a VoIP consultant for small businesses comes into play, offering VoIP services for small businesses that are affordable, easy to use, reliable, and mobile. At Anchor Network Solutions, we can provide and install a Ring Central and Momentum Telecom VoIP solution that perfectly aligns with your needs.
Affordable VoIP Solutions for Small Businesses
Small businesses often operate on tight budgets, making cost-effective communication solutions a top priority. Anchor Network Solutions recognizes this need and offers VoIP solutions that are budget friendly. With our VoIP services, you can wave goodbye to the costly traditional phone systems and enjoy significant cost savings while maintaining high-quality communication.
Easy-to-Use VoIP Services
We understand that transitioning to a new communication system can be daunting. That's why our VoIP solutions for small businesses are designed with user-friendliness in mind. With an intuitive interface, your employees can quickly adapt to the new system, reducing downtime and ensuring seamless communication within your organization. Our team at Anchor Network Solutions will provide the necessary training and support to ensure you make the most out of your VoIP system effortlessly.
Reliable Communication 24/7
In the business world, downtime can be costly. With our VoIP services, you can rest assured that your communication system will always be up and running. We take pride in our commitment to reliability. Anchor Network Solutions will not only install the VoIP system but also service, maintain, and manage it around the clock. This means you can focus on what matters most – growing your small business – while we ensure that your communication remains seamless and uninterrupted.
Mobile Communication for Greater Flexibility
In today's dynamic business environment, mobility is a key factor in staying competitive. Our VoIP solutions empower your small business with the flexibility to answer calls remotely from different locations or forward them to mobile phones. Whether you're in the office, on the road, or working from home, you can maintain a professional image and never miss an important call.
In conclusion, when it comes to choosing a VoIP consultant for small businesses, Anchor Network Solutions is your trusted partner. We offer VoIP services for small businesses that are not only affordable but also easy to use, reliable, and mobile. With our Ring Central and Momentum Telecom VoIP solutions, you can revolutionize your small business communication while saving costs and ensuring continuous connectivity.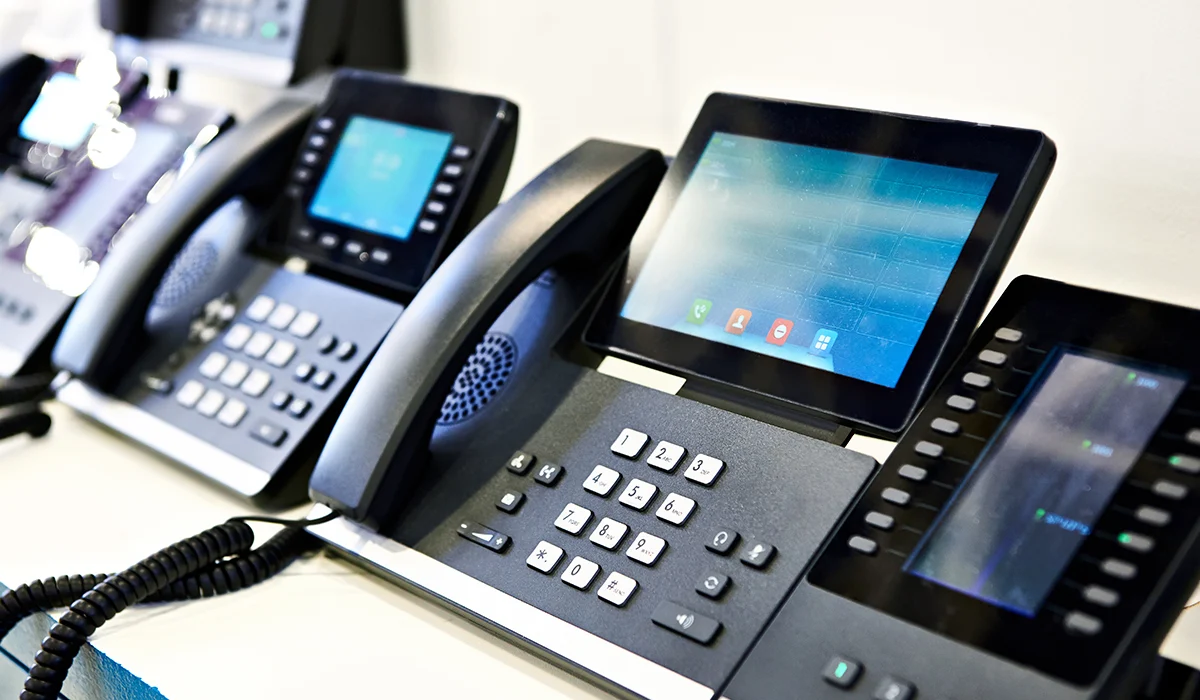 Elevate your communication game, stay ahead of the competition, and take your small business to new heights with Anchor Network Solutions's VoIP solutions. Contact us today to learn more about how we can tailor a VoIP system to fit your specific needs and help you achieve your business goals. Don't let outdated communication methods hold you back – embrace the future of business communication with Anchor Network Solutions. Your success is our priority, and we're here to make it happen.
See how easy a VoIP phone system can be.