Mobile Device Management in Boulder, CO
Mobile Device Management | Boulder, CO
One Unprotected Mobile Device Can Cause Catastrophic Data Loss. Are You At Risk?
Smartphones and tablets are transforming the way in which companies function by permitting users to become extra productive and responsive to business demands. In addition to corporate supplied devices, firms are opening access to employee owned gadgets for email and corporate file access. This growth of mobile devices and services places pressure on IT through additional challenges such as tighter security requirements, new mobile applications and high expectations from end-users. Anchor Network Solutions provides professional mobile device management in Boulder, CO whether they be corporate owned assets or employee owned personal devices. We can protect and manage smartphones, laptops and tablets. If you allow your staff to connect to your network with their personal mobile devices and you are concerned, contact us today. We can show you how our solution can protect your network and valuable data as well as protecting your employees privacy.

We will help get your mobile device management off on the right foot. We'll work with you to develop the proper profiles for your devices, set up proper settings, and take care of everything you need to manage your mobile devices properly.
With Anchor Network Solutions, you can expect:
Rapidly enroll mobile devices - Choose between company issued or employee owned devices.
Integrate mobile devices with enterprise systems - Integration is easy and straightforward, without the need for on-premises servers or network reconfigurations.
Centrally manage mobile devices - We provide unified mobile device management console for smartphones and tablets with centralized policy and control across multiple platforms.
Proactively safeguard mobile devices – Anchor Network Solutions provides dynamic, robust security and compliance management capabilities to continuously monitor devices and take action.
Protect access to your network - in case phones are lost or stolen.
Here's what our proud partners have to say
I consider Vince & Anchor Network to be one of our premier networking partners & "small business specialists" here in Colorado. Vince is a great advocate of Microsoft solutions & associated channel development programs, and would recommend him highly to any small business seeking a strategic technology provider.
John Hermann


Partner Community Manager
Microsoft Corporation
Activate your 2 FREE, No Obligation IT Support hours today!
To secure your 2 free hours of technical support simply complete the form above or call me at 303-904-0494 today. Activating your free support will only take a minute, but it could save you a lot of frustration (and money) when you need it most.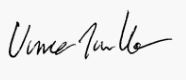 Vince Tinnirello, CEO
Anchor Network Solutions
303-904-0494
P.S. There is NO obligation to purchase anything or to ever use our services again.