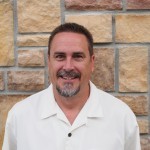 Rick Roundy comes to Anchor Network Solutions with over 25 years of experience in technology. He began as a technician for the NYNEX Business Centers, Computerland and US West MRG before moving on to enterprise networking at Cabletron Systems and Copper Mountain Networks. After the bust of the technology bubble in the early 2000's he started his own company to support the small and mid-sized business market. After 5 years working at that venture he joined Solve IT, Inc. During his 9 year tenure at Solve IT, he moved up the ladder from a field engineer to account manager and eventually becoming part owner and Director of Business Development. In April 2015, Solve IT was acquired and this presented an opportunity for Rick to move on to a new chapter at Anchor Network Solutions.
Rick just celebrated his 23rd wedding anniversary with his wife Valerie. They have 2 children, Travis and Tia, who are currently attending school at the University of Colorado Boulder and the University of Northern Colorado respectively.
---

Corey Pottratz has been with Anchor since November of 2013 working on the Service Desk as an Engineer. During this time, Corey has built relationships with many of you. For those of you that have not met face to face he is looking forward to that opportunity very soon!
Corey not only has a technical background but also has Project Management and Customer Relations experience. Prior to Anchor, Corey worked alongside Limos.com, which was founded by former employees of Hotwire.com. During Corey's time there he was able to help the operation grow from 5 employees up to 30 employees. Corey managed the day to day operations as well as oversaw the technical infrastructure. What attracted Corey most to Anchor was our high standards in customer service and the emphasis we put on the customer experience.
Corey has been married for 8 years to Autumn and they have a lovely 3 year old girl Khloe. They enjoy getting to the mountains as often as possible to soak in the beauty of our state.